How To Start A Blog For Free:
Hey Reader's, Starting A Blog or personal website could be the best way to generate side income as well as Full Time. Because there are lots of bloggers, who earns more than 1000 $ A Month. So, As per my opinion Start a blog would be the best options for you, If you're looking to earn money from online. Therefore, In this Guide Tutorial, I'm going to explain you that How To Start A Blog For Free.
Basically, There are two different ways to start a blog or website, first one is Paid And Second One is Free Method. But In this Guide, I'm going to explain you free method to Start A Blog in 2020. Because As beginner, I would like to recommend all of you guys to go with Free Method. Once you would get an experience then you could go with Paid method.
You May Also Like: How to improve your coding skills? Read Here.
Why You Should Start A Blog in 2020?
Before heading towards tutorial, I wanna let you know that Why one should start a free blog.
It's give you power to share you knowledge with world.
You could earn and generate good amount of money with blogging.
It's give you freedom of work.
It will improve your writing skills
You could make your own brand and business later on.
In Last, It's give you an opportunities to enter into different field like E-Comm, Social Media influencer, Etc.
In short, You should definitely start a blog for free As a newbie blogger. Once you've got an experience then you can switch to paid method.
There are bunch of free platform to start free blog or website, But personally I like to recommend Blogger. Instead Of any other platform like WordPress.com Or Wix.com
Why Blogger?
Blogger is google own product that allows you to create free blog or website. Later On, You could even insert Google Ads to Earn Money. In other side, you can't insert ads on blog hosted on other platforms e.g: WordPress.Com and Wix.Com, Etc. Because Blogger is Product of Google, therefore It allows anyone to insert ads on blog hosted over blogger.
Now Let's come to the topic and start our Full Guide of How to Start A Blog For Free. First of all, I would like to suggest you to follow up all steps practically along with reading.
Steps To Start A Blog On Blogger (Full Guide):
In this guide, I'm gonna give you full step by step explanation to start a free blog on Blogger.Com.
Note: In this Guide, I'm going to use new updated version of blogger platform. So, You need to change you blogger dashboard by clicking "Try New Blogger" Button, If you were using old blogger.
1. Sign Up Or Login Into Your Blogger Account:IMAGE _ 1 = Create A New Blog(Mobile Me)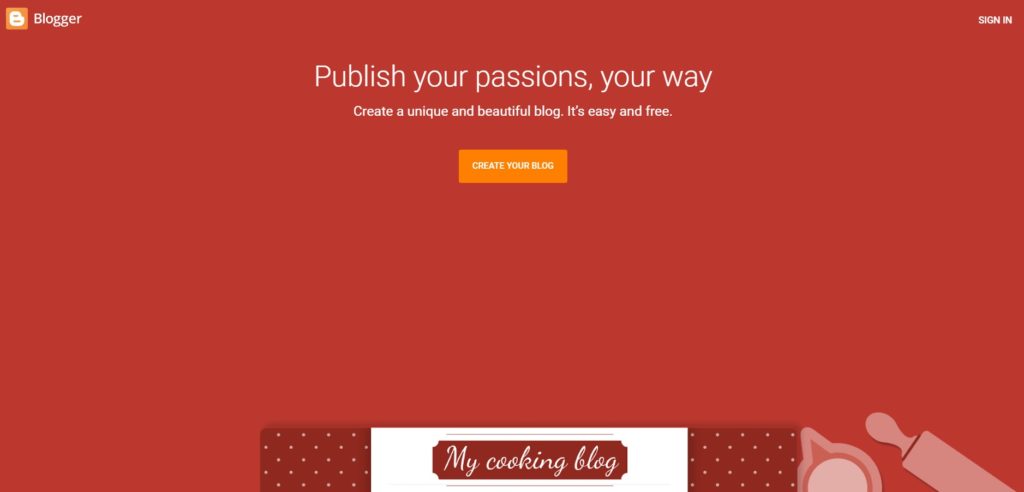 First Of All, Before creating your blog, You need to make an account over blogger platform. You can create your blogger account using "Google Account". Follow Given steps to create your blogger account
Go To Blogger.com – Click Here
Then Sign In with your google Account, If you don't have then create new one.
Once you've done then you need to enter name of writer that you want to display as an author.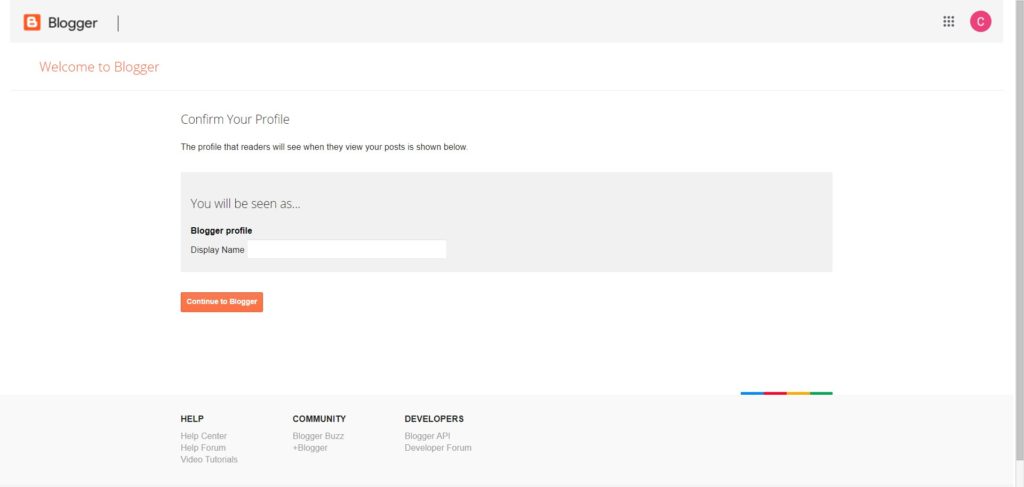 2. Create You New Blog:
Now You'll see Blogger Dashboard, Here, you need to click on create new blog option that you would get on top-left corner.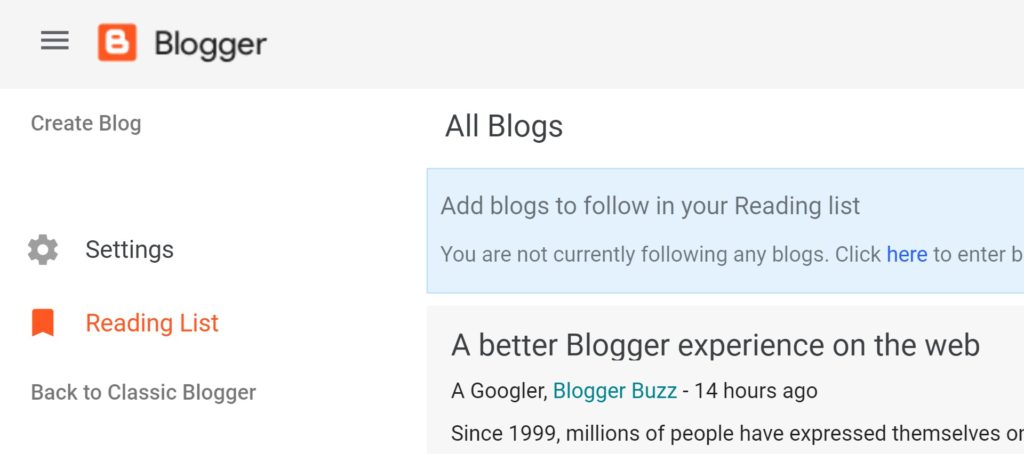 Now, You'll get window to with popup to create your blog or website. Here, You will see 2-3 different fields that you need to fill up in order to create your blog.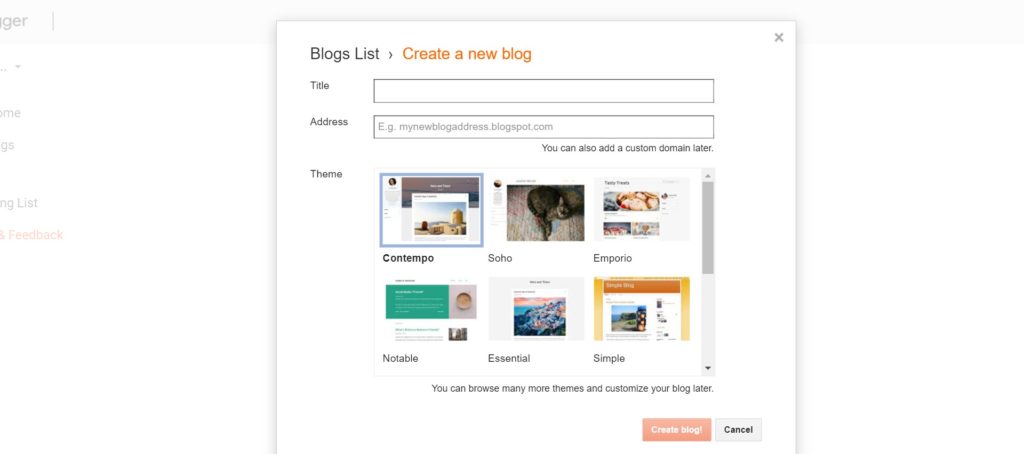 Title: In this Field, You need to enter Name of your Blog that you want to keep and It will be displayed every where as a Title of your website.
Address: It's basically an url, where you site will be exist. which means whenever someone will enter this address in URL Bar then They will redirected to your website. Whatever Url you would select should be unique and available. Because we're using free service, therefore you address will be attached with subdomain name "address.blogspot.com". However you could change it, If you have you own custom url.
Theme: In this Field, you will see different default themes provided by blogger, In which you need to select one of them. Later on, You could even install your custom themes via themes menu.
Once you would have fill up above form then you can Click On "Create Blog!" Button.
Now, You're website is live. You can see it on your give web address e.g: "example.blogspot.com":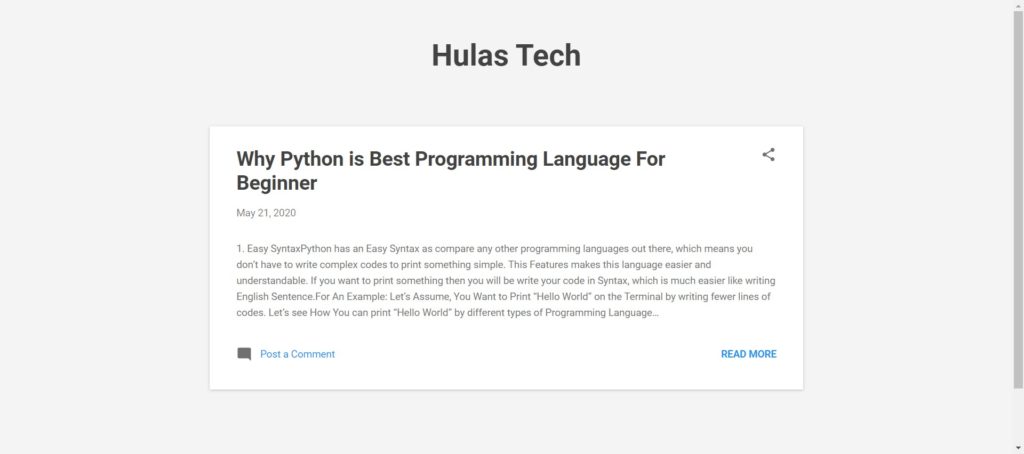 Now You've successfully created your blog for free on Blogger. Now It's time to Create Your First Post On Blogger.
3. Create A New Post On Blog:
Lets Create and Write first post on our blog. Firstly, You need to open your blogger dashboard, then In Bottom – Right corner, You'll see sign of '+'. Click on that + Sign.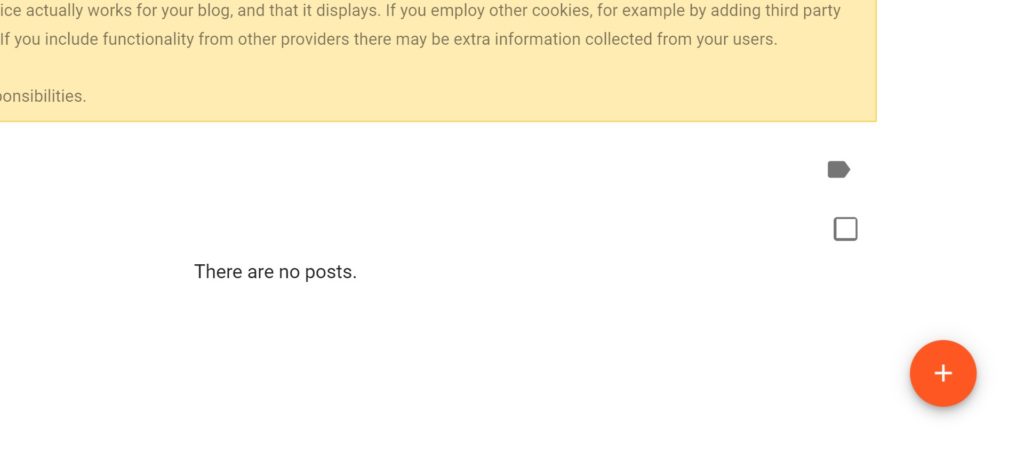 Now, You'll see Post Creation Dashboard of blogger like this: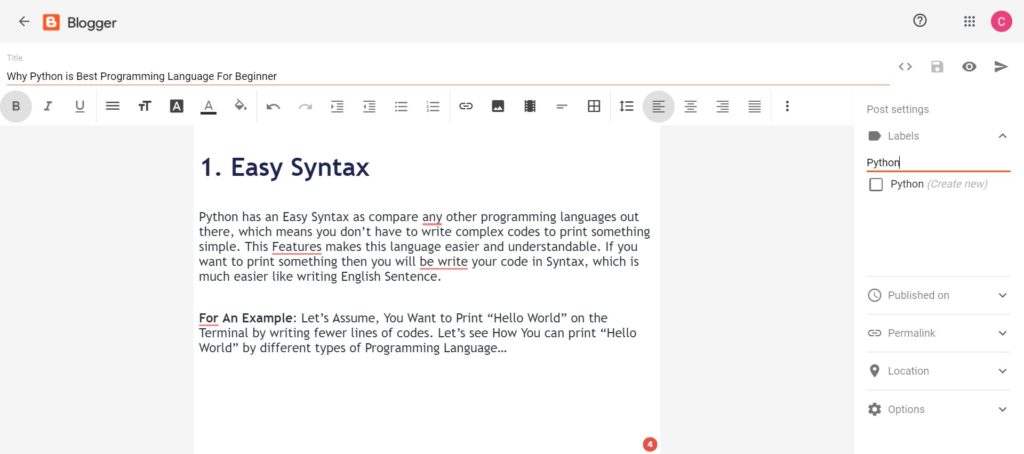 Now Let's discuss each and every section of this post creation dashboard that you are seeing above in the image.
Title: As Name suggest, It'a title of your blog post or article
Editing Dashboard: It's a section, where you will write content of your Post.
Tool Bar: It's an useful section that helps you to customize you blog post e.g Changing Font Size, Color, Style. It's also helps you to add link, images, video etc inside your content.
Labels: It's kind of tag that helps to categorize your post. For an example: If you've written a blog about Smartphones then you can add labels like "Technology","Smartphone, Etc.
Published On: It used to schedule your post or modify date and time of post.
There is also an option of "Permalink", Which is used to define structure of an url that you want to keep for each and every posts.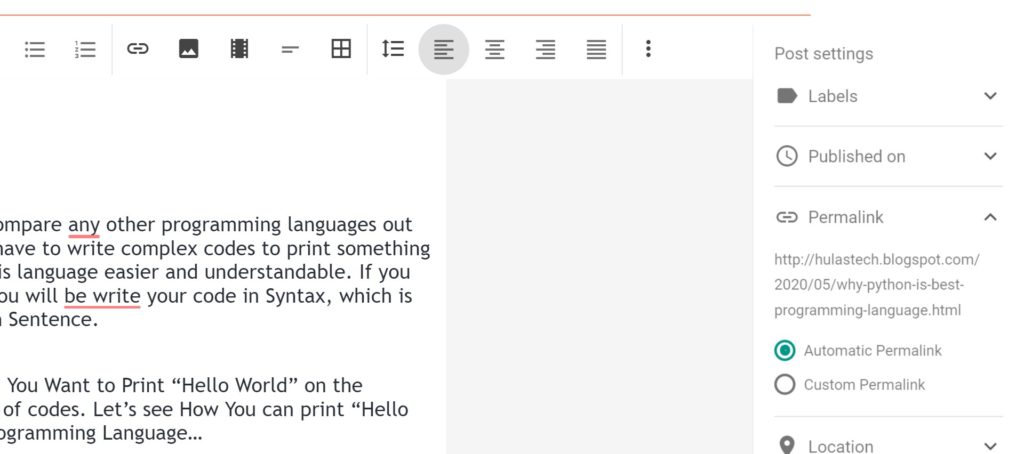 There is two option inside this permalink label:
Automatic Permalink: In this Permalink, Post will automatically generate an url for your post on the basis of your post title.
Custom Permalink: In this option, You can create your custom url for your post whatever you want.
Now Finally Click on Top-right Arrow button to Publish your post.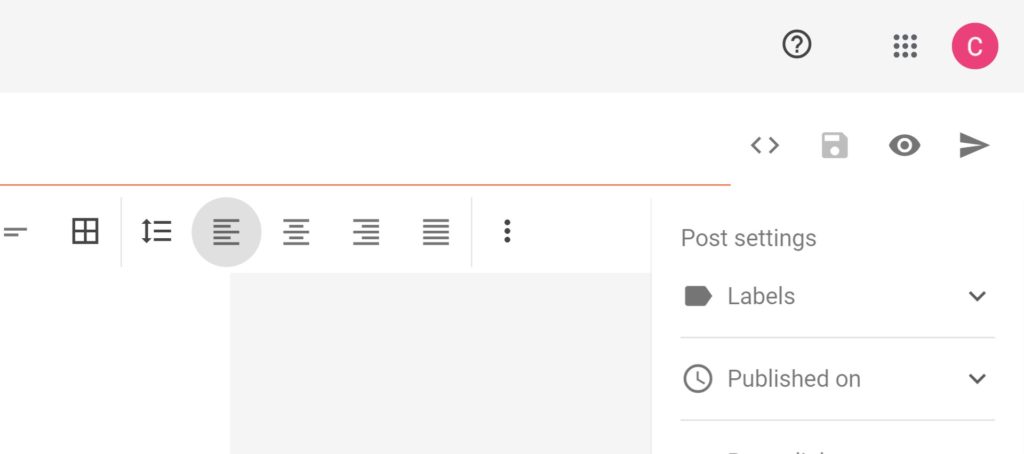 4. Blogger Sidebar Options: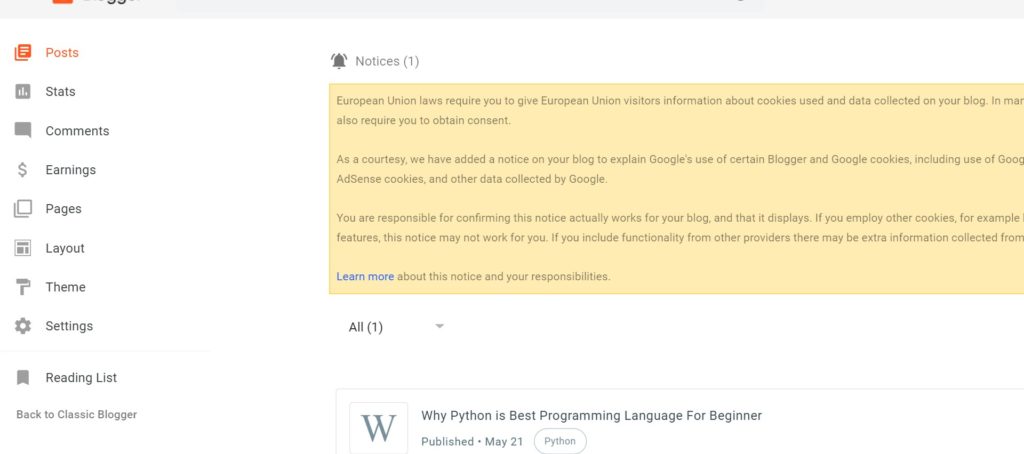 Now You've published your one post that you can see on your website. Now Let's head to Sidebar option that you can see inside you main blogger dashboard. Here, we have various sidebar option e.g Stats, Comments, Earning, Pages, Layouts, Theme, Settings. So, Basically we're going to discuss these options one by one.
1). STATS: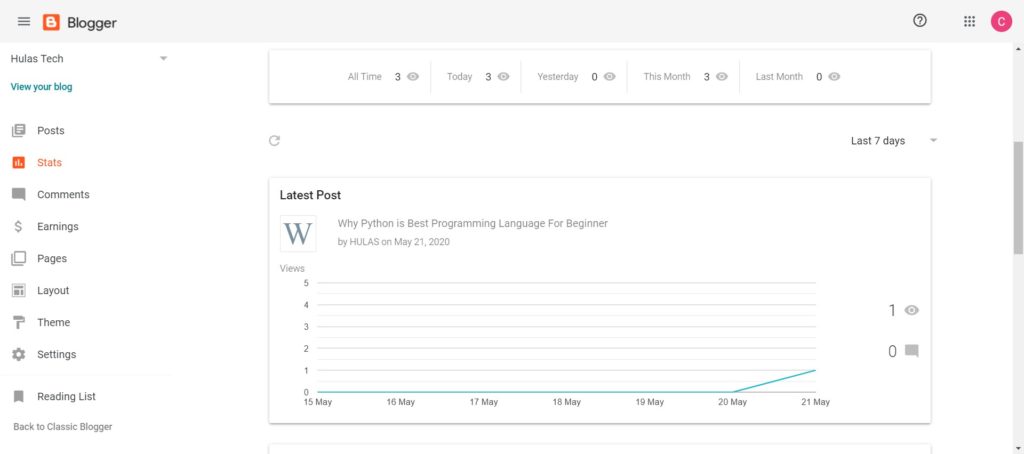 In Stats section, You can see views that you're getting on your post. You can filter your views by Last 7 Days, Today, Months Or Year. You can also see view of separate or individual posts.
2). COMMENTS: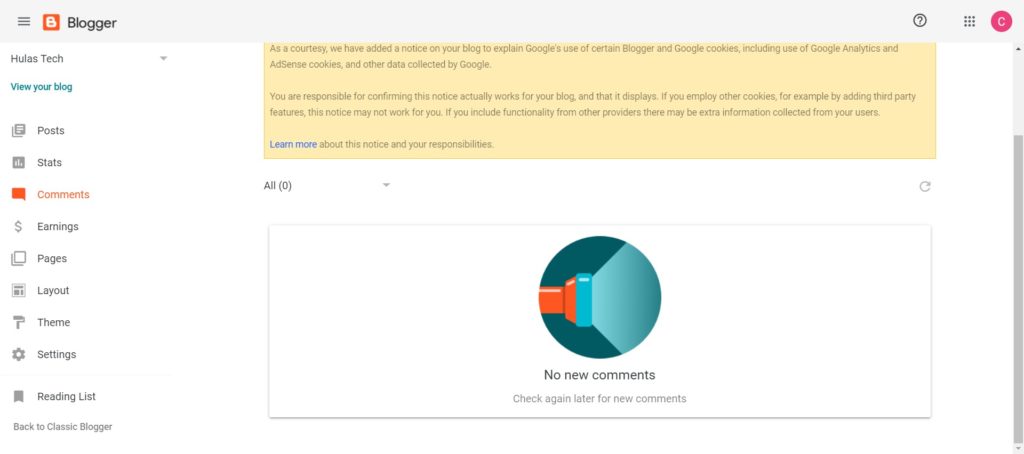 In Comment section, You can manage all your comments related to each and every post. You can moderate, modify and delete your comments.
3). EARNINGS: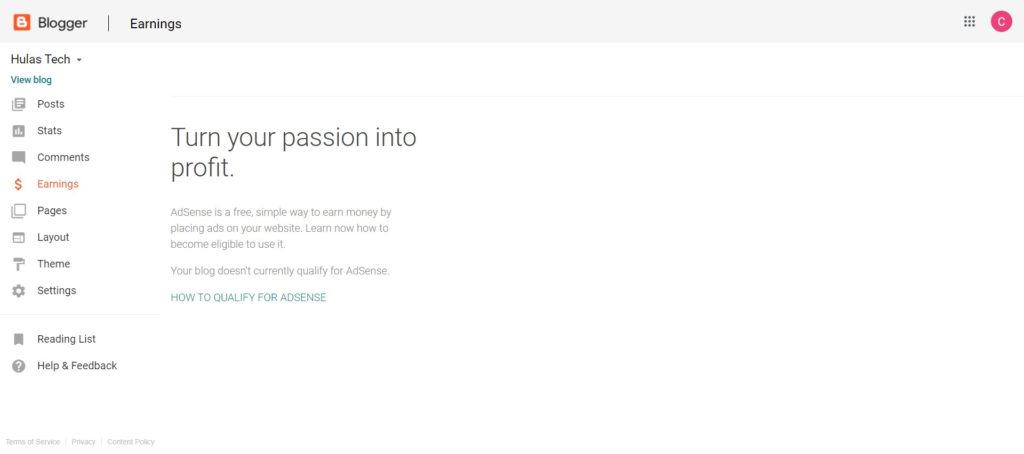 Earning Section: This section would be empty until you qualified for their monetization term and condition. Once you've completed their all T&C, then You can use Google Adsense to show ads on your free blog.
4). PAGES: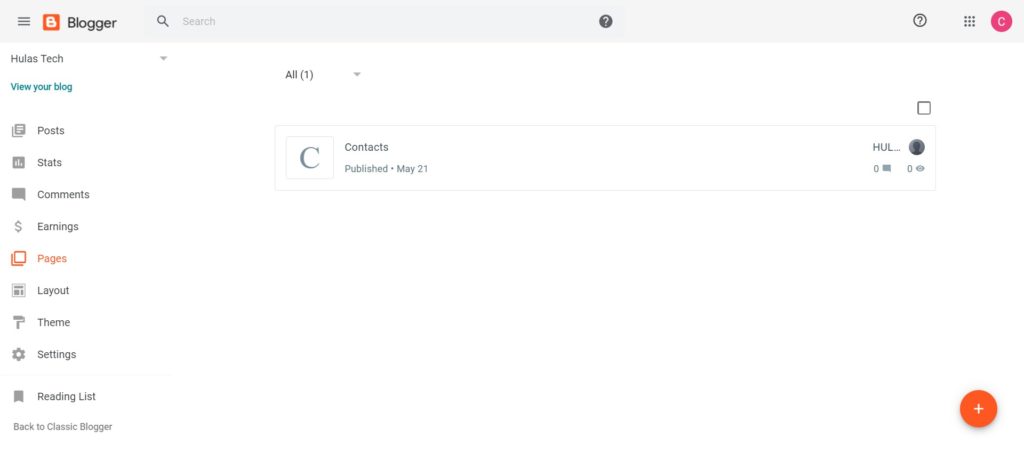 In this Pages tab, You can create particular or specific pages e.g: About Page, Contact Page, etc. Post creation process will be same as Post creation.
5). LAYOUTS: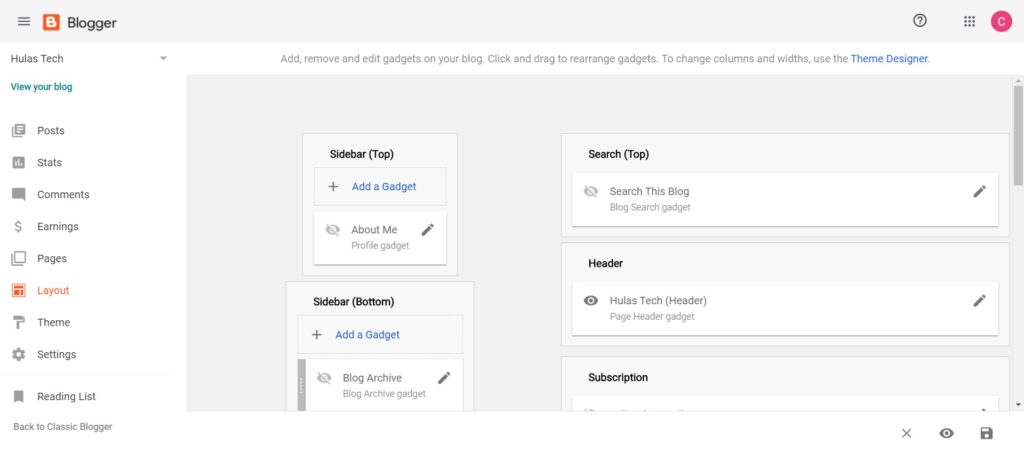 this is the layout section, where you an modify your current template structure. You can even add your script and html file. It's also allow you to change your Icon and Favicon of your blog. There would be bunch of different option as per your installed theme and template
6). THEMES: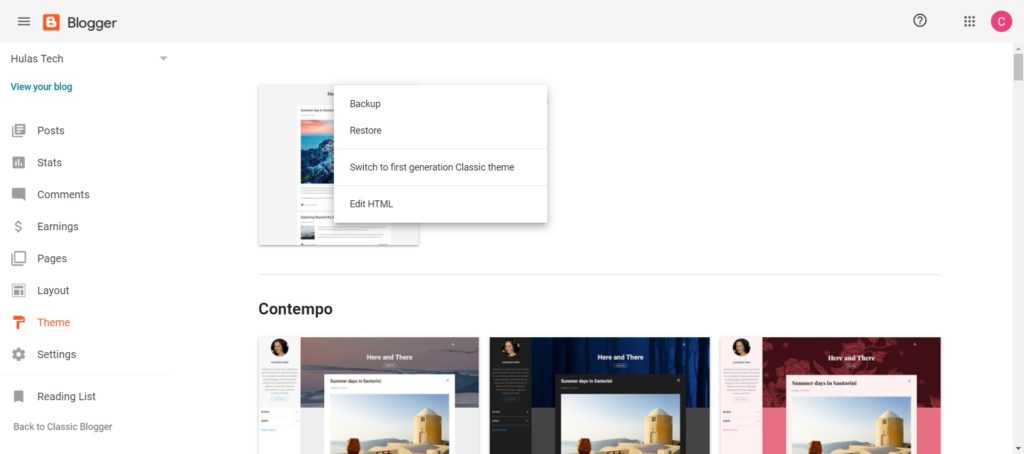 In this section, You can browse and apply all default themes given by Blogger. You could even install your custom theme via upload option. Here, You will also get an option to enter inside your Raw Html Source code of your blog. Where you could add and modify your snippets.
7). SETTINGS:
It's the most important section of blogger. Here, You will get plenty of option that will effect your blog universally.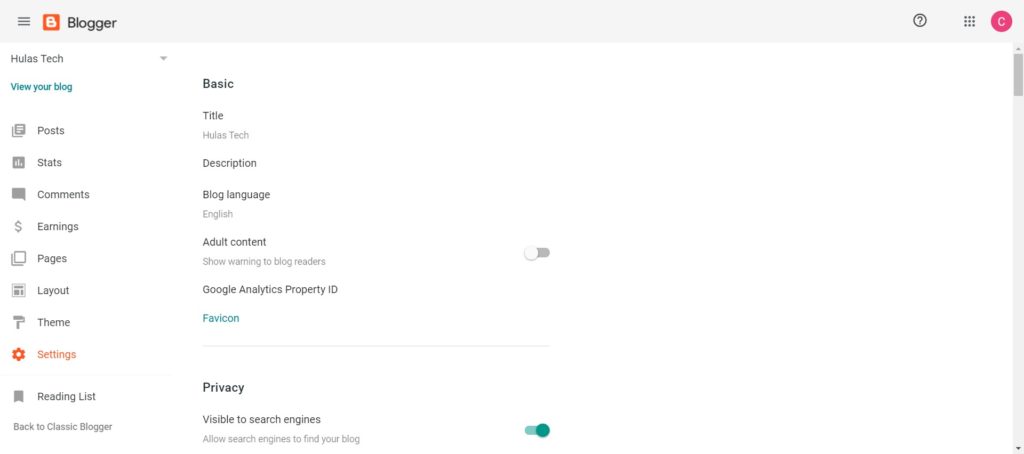 Title: Title of your blog.
Description: It's a meta description of your blog that will be shown in Google search result.
Google Analytics Property ID: It's used to track your website activity, views, keywords etc.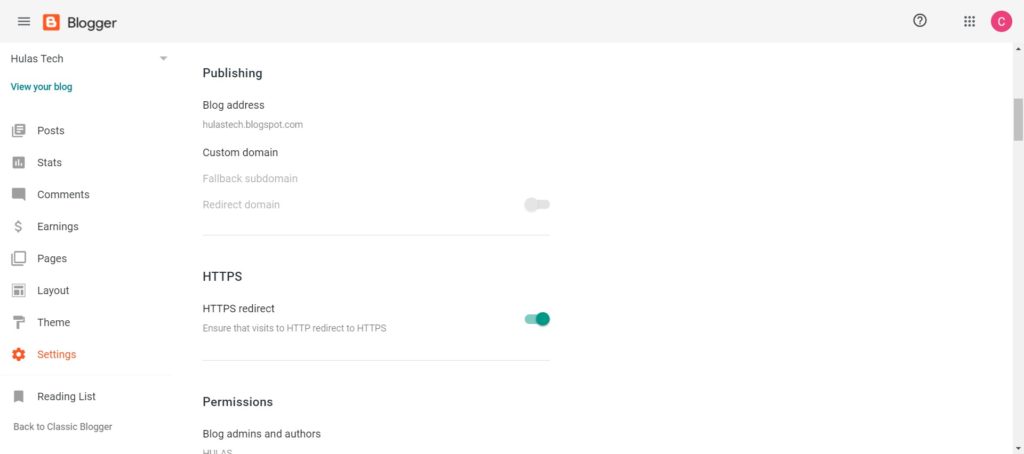 Custom Domain: Here, You can change your subdomain(example.blogspot.com) to Custom domain(www.example.com). If you already have any custom domain.
HTTPS Redirect: When you enable this option, then blogger will redirect all users to https socket.
Apart From these above option, there are still various options left. But you can explore them by yourself. All the necessary steps, process and option that you need to Know, I've already discussed in above article. But If you still have any problem in starting a blog, then please let me know in comment box. I would try to give best answer of your queries.
Thank's To Read.