Hi Bloggers, do you want to add an email subscription to your WordPress blog, then you're at a right place. Because In this Article, I'm going to Guide you that How You can add beautiful and customizable email subscription forms to you WordPress website. And Later on How you could send emails to your subscribers.
Basically, We're going to divide this whole process into two part.
First Step: How to add Email Subscription to Your website?
Second Step: How To send emails to your subscribers.
So, Without further late, let's get start our tutorial to add Email subscription To your WP Blog.
Add Email Subscription To Your WordPress Blog:
In this phase, we're going to add beautiful and attractive Email subscription form to our website. After adding subscription form to our blog, It will only collect emails from subscribers. In second phase, I'll tell that you can send emails to those subscribers.
Let's add Our email Form to WP Blog. We're going to use convertful plugin of WordPress to add Subscription form to our blog.
Convertful is most useful service to that allows you to add attractive and eye catching Form to your WordPress.
1. Create An Account On Convertful Website
First of all, You have to create an account on ConvertFul Website. Here, You can proceed with their free(0$/month) plan. Because It's an okay for a new and average WordPress blogs.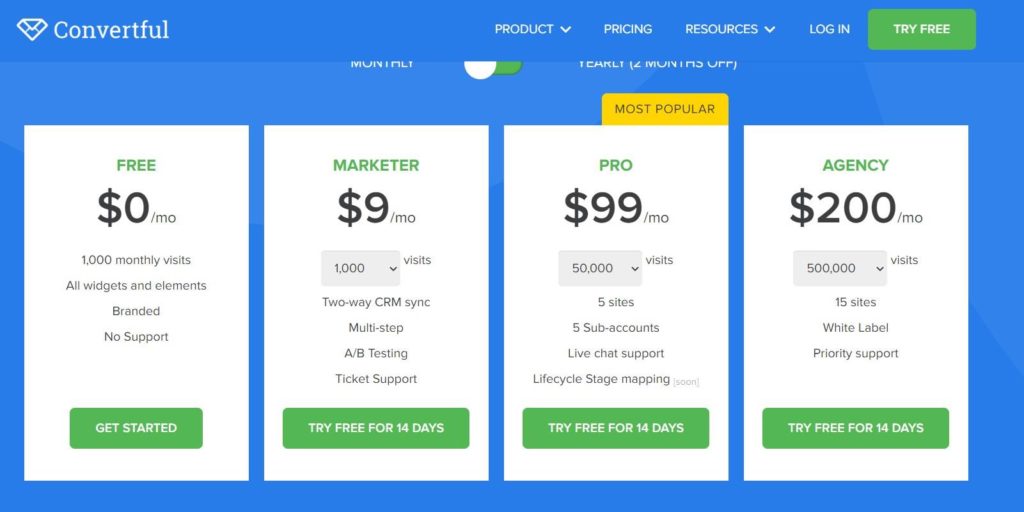 Now select the Free Plan and Follow all the instruction to create an account. And Your Unique username, firstname and password
Now We will see dashboard like this: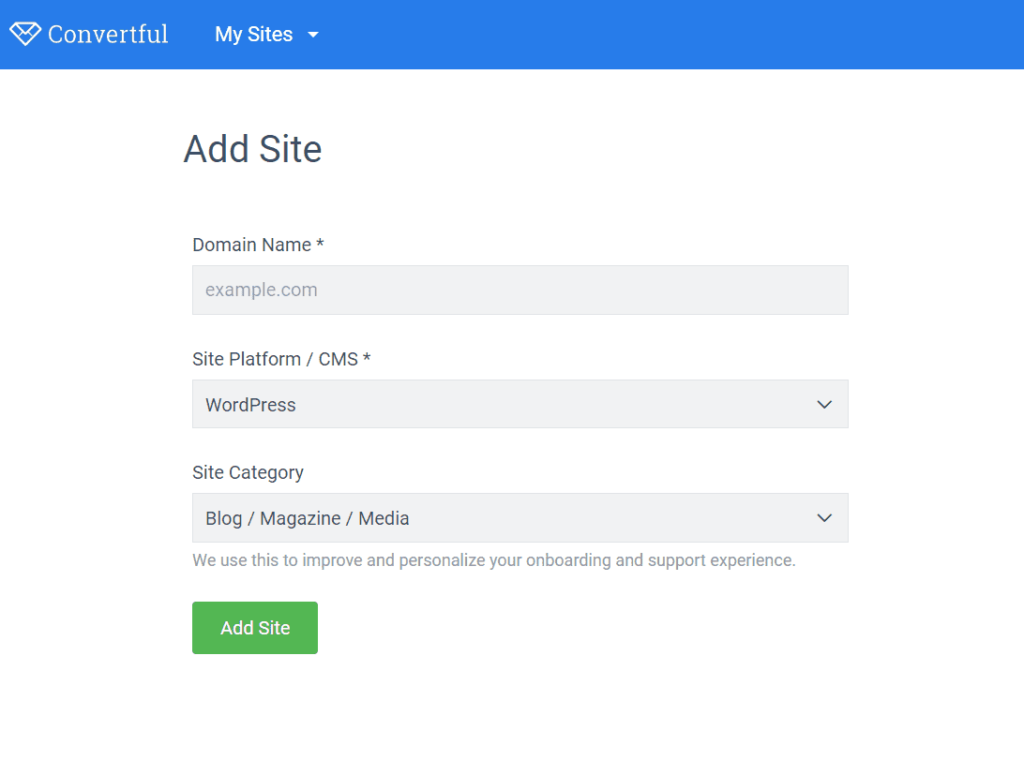 Now fill up all the all the required* fields e.g your blog url, Site Platform(WordPress) and Category. After then click on Add Site. Now you will be redirected to this page: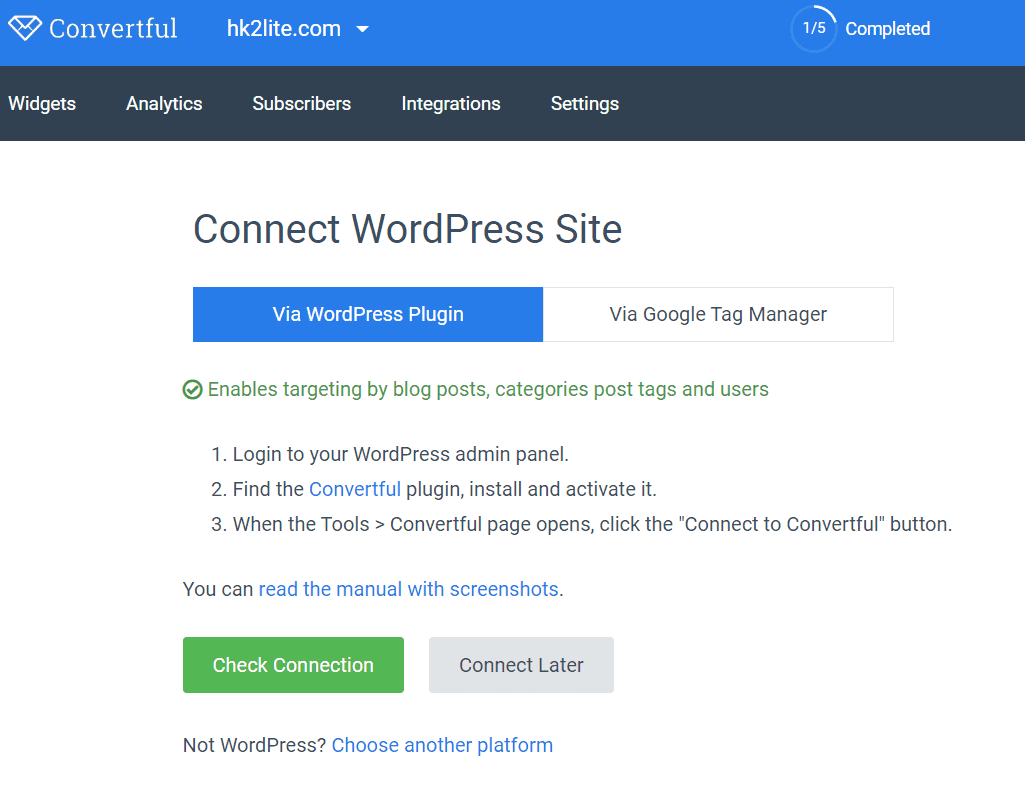 Now, You're site is successfully added to your convertful account.
2. Connecting WordPress With ConvertFul Account:
Now It's time to add Your WordPress blog with ConvertFul account so that you can add and display your subscription forms.
First You have to install a Plugin called Convertful to your WordPress. Therefore, Open your WordPress dashboard and add plugin name convertful and activate it.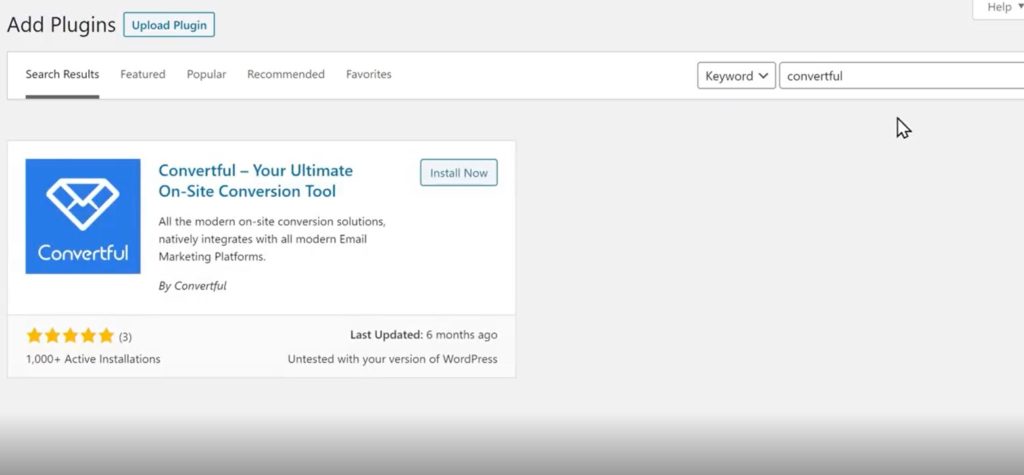 Once You've activated the convetful plugin then simply click on connect to convertful button.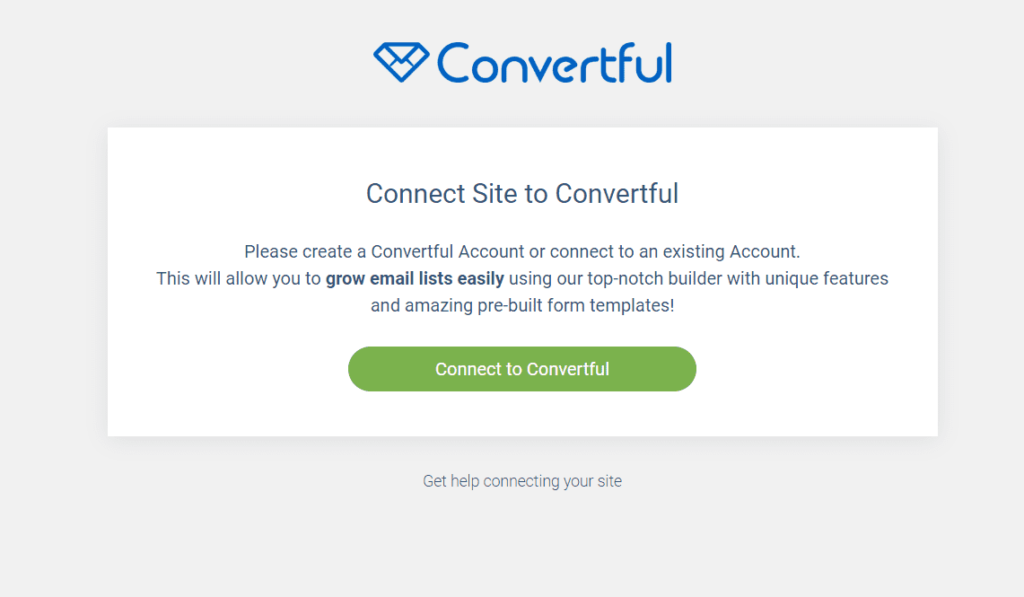 Now It will redirect you to this page. Here, just click on approve button to connect you converful account with wordpress.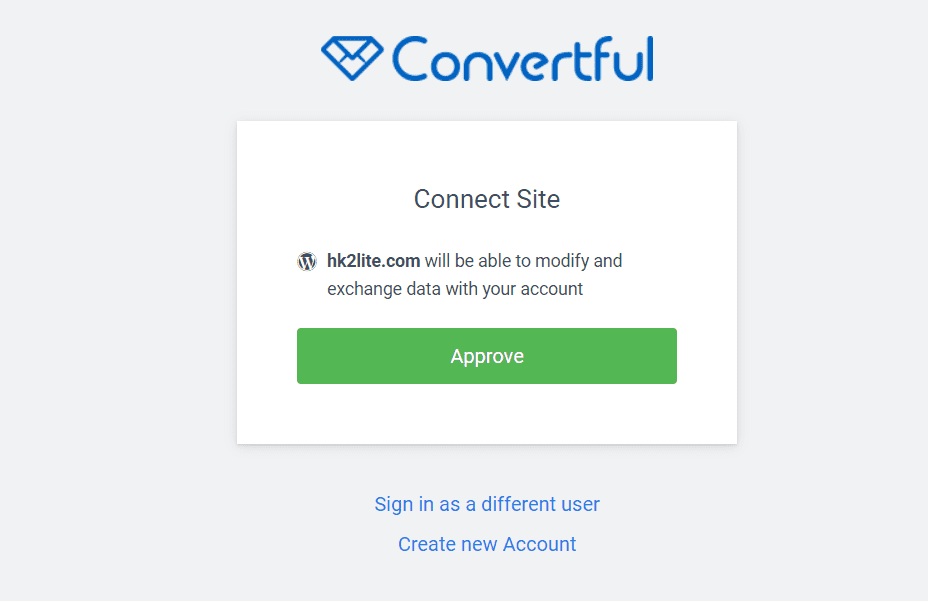 3. Creating And Adding Widget Forms To Your WordPress
Once you've successfully connect your wordpress site to your convertful account then you can create and add form.
First, Let's create a Pop-Up Email Subscription form to your WordPress website. To Create A form, Click on Create Widget button


Now, You need to select type of form that you want to display at you website. There are bunch of different types of form e.g Inline Forms, Pop-Up Form, Discount Forms, Etc. Here, You'll get ready made designed form that you can customize as per your requirement.
Because, We want to add Pop-Up Subscription form, therefore, we will select pop-up form.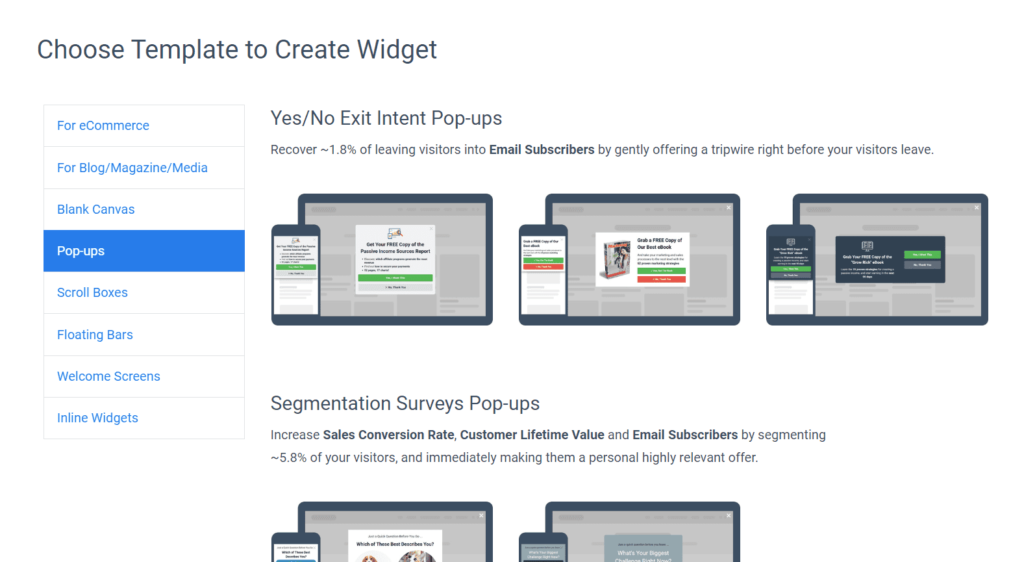 Now, You need to select a template of form that you want to add. I've selected this template of subscription form.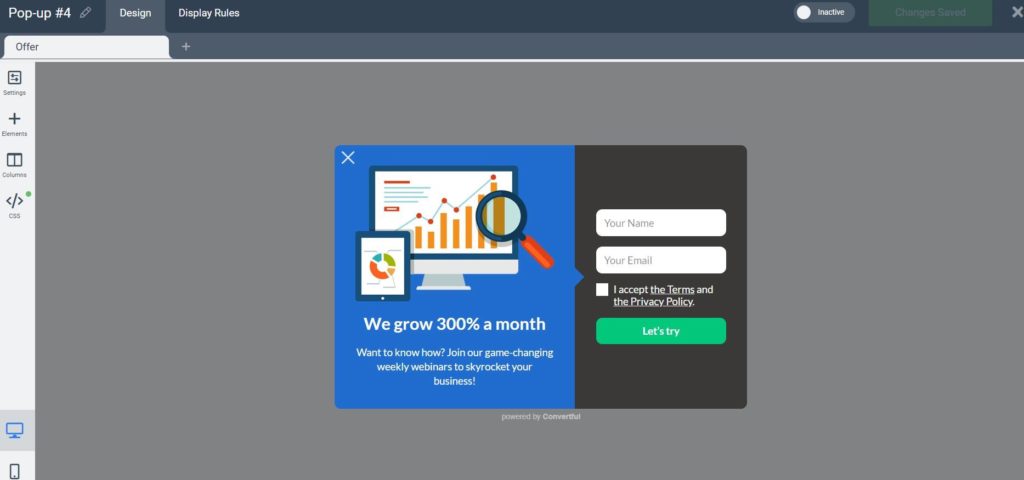 Now, you can customize above form according to your requirements. After some customization, My form look like this: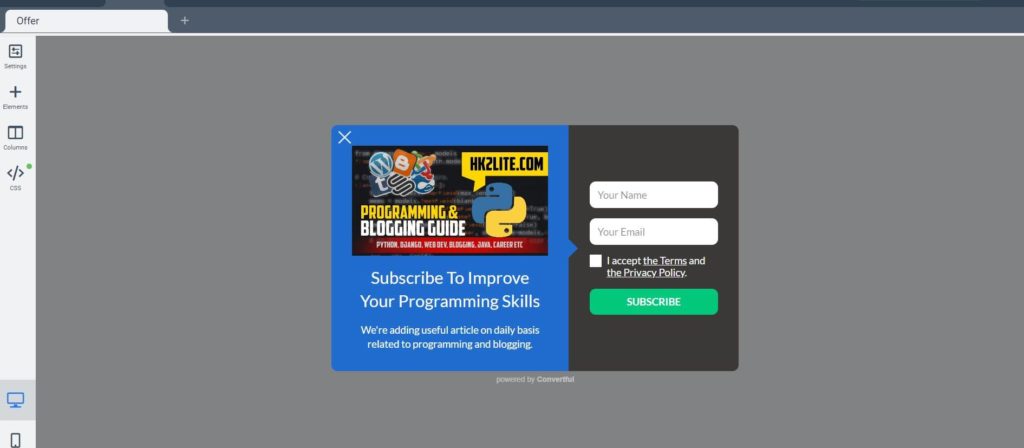 Once you customization would be done, then just simply click on "Display Rules" tab that you could see on top section. Here, you can add condition of your pop-up form, which means like when you want to call your pop-up form. I want to show pop-up form to my subscribers, when they would read 40% of my articles.


Once you've done then just click on save changes button to save and "inactive" toggle to active your forms. It's all done, Now whenever someone would visit my website and read 40% of my content then he will get pop-up form like this.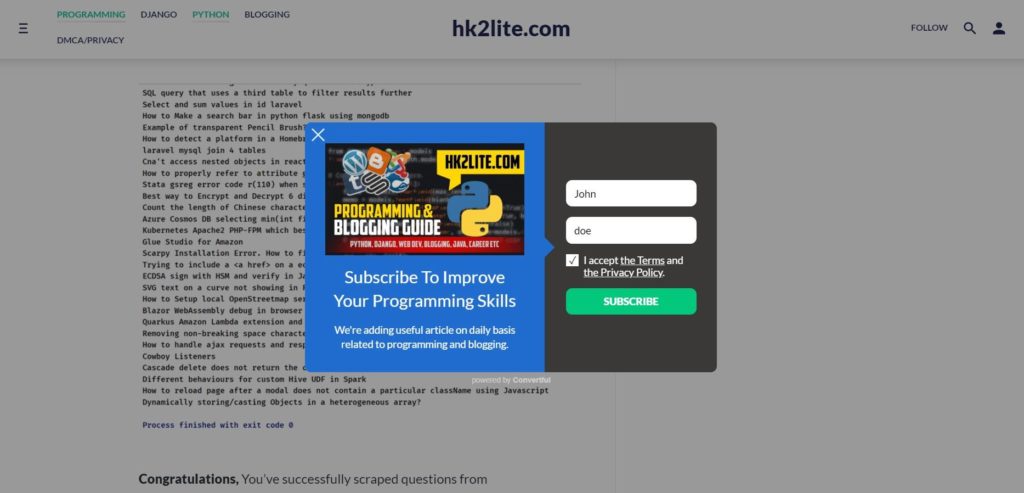 That's it, Now If the user enter their detail and click on subscribe then their email will be add to you convertful account. you can see your subscriber list in subscribers tab of convertful dashboard.


But As I previously said that Convetful is only used to collect Email's from your subscribers. Therefore, once you got email list of your subscriber then you need to use other mail provider services to send emails to those subscriber.
In second phase, we're going to show you how you send an email to those subscribers. Here, we will use MailChimp Email service to send emails to our subscribers.
You May Also Like: How To Start A Free Blog in 2020(GUIDE)
Send E-mails to Subscribers using MailChimp:
MailChimp is one of the best email service provider that will help you to send an email your subscriber. Here, we will also select their free plan. In this free plan you can send an email upto 2000 subscribers. So, If your subscriber base is larger than 2000 then you proceed with other plans.
But Free plan is enough for new and average websites. Let's start our second phase of this guide…
1. Create An Account On MailChimp
First of all, You have to create an account on MailChimp to use their services. Go To Click On the button given below and all the details to open an Account.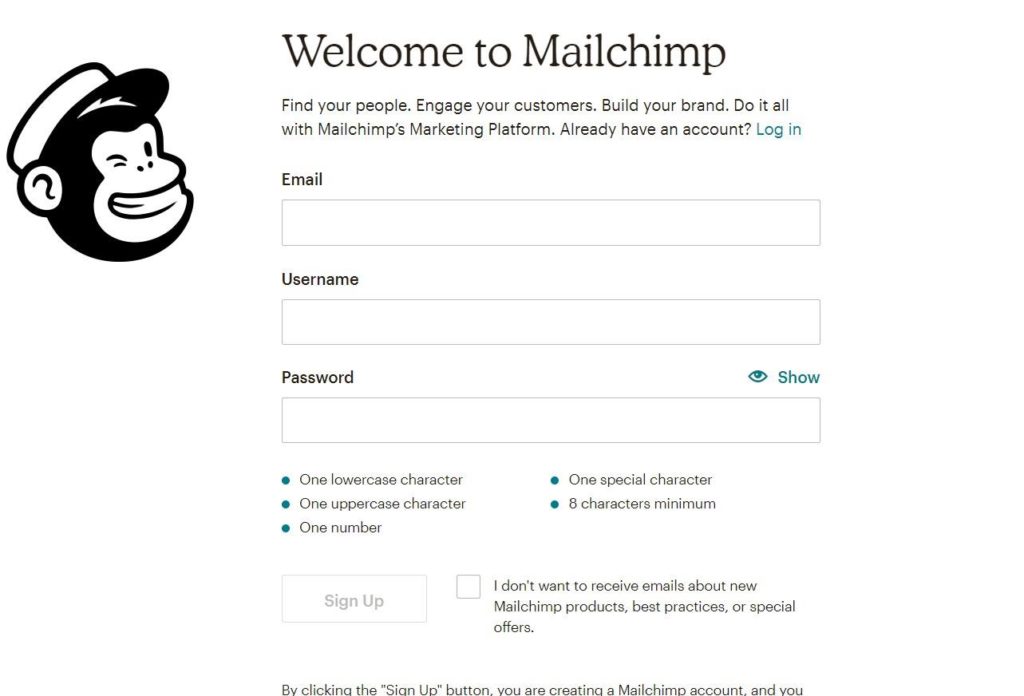 One you've opened your account successfully then select your plan. Here, I'm proceeding with free plan, where we can have upto 2000 subscribers.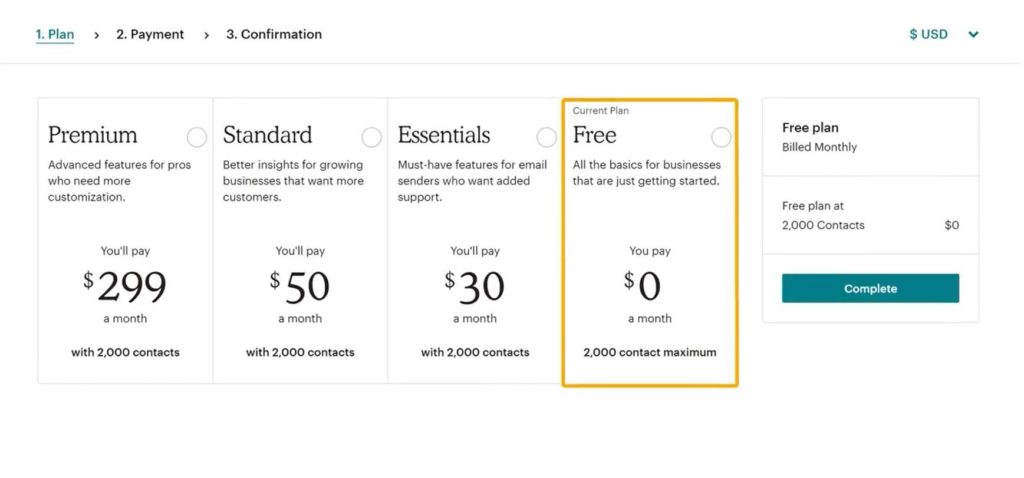 Now Click on Complete button and enter details about your website and then click continue.

Now you're ready to go.
2. Connect MailChimp With ConvertFul Account
we've just created our mailchimp account successfully. So, now it's time to connect our MailChimp account with ConvertFul Account. After then, we will receive all of the subscriber's email details in our mailchimp account too.
To Connect MailChimp with ConvertFul, You have to visit convertful dashboard again. Here, you will be see Integration Tab


Under this Integration Tab, You will see add integration button, click on it. Now select email service provider. Here, we want to connect our mailchimp account, therefor, we will be choose mailchimp here. After then simply click on connect button and login with your mailchimp account.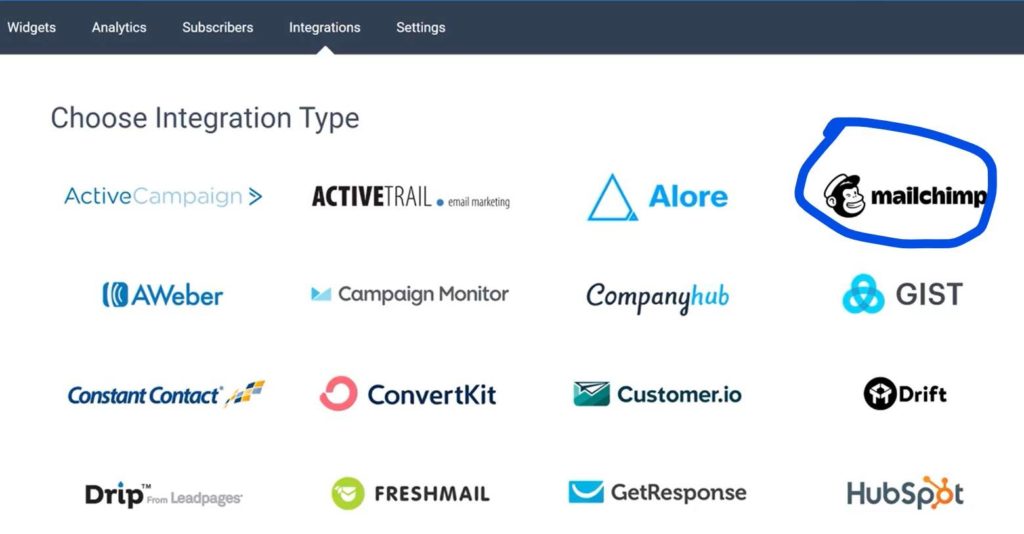 Once you've connected your account successfully then you will redirected to the new page.
Note: You need to off "request double-opt in" checkbox. (To Disable confirmation email)(Important)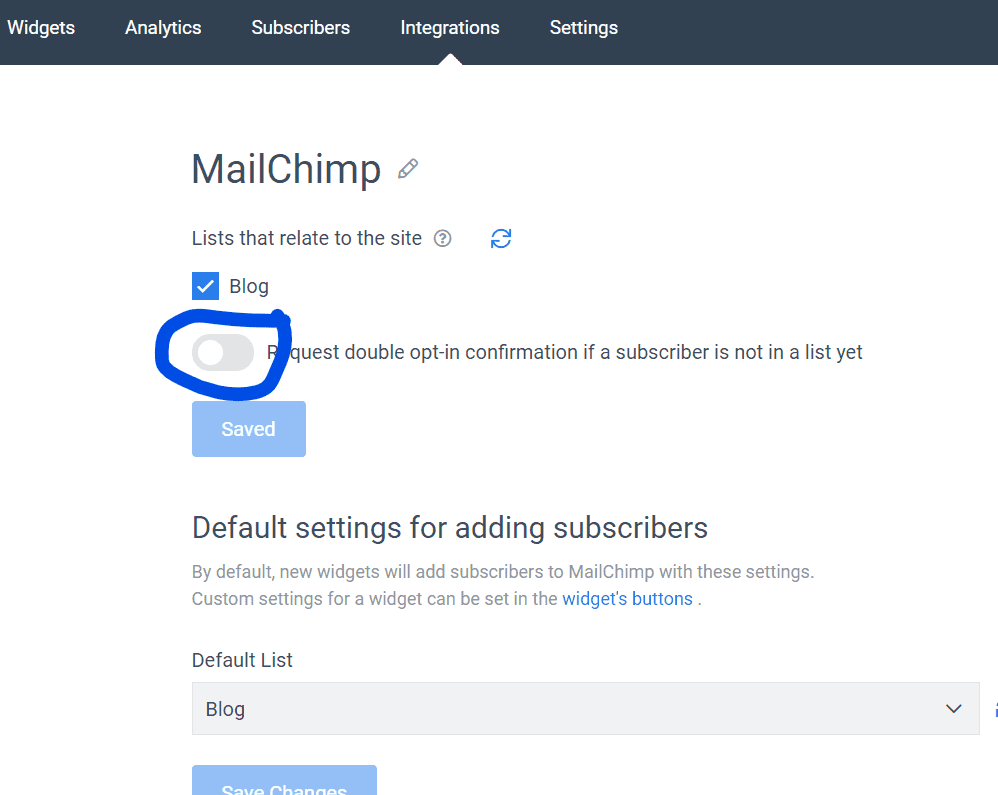 Now we've connected our mailchimp account with convertful successfully.
3. Sending Emails To Subscribers
It's a final step, where we will send our emails to our subscribers. But before send an email, make sure you should have at least one subscriber.
Here, I've subscribed our website with someone's else email details. You can also do that to check your service is working properly or not.
To Send an email, Go to you mailchimp account and click on "Audience tab" and then click on View Contacts button. Here, You will see email and details of your subscribers.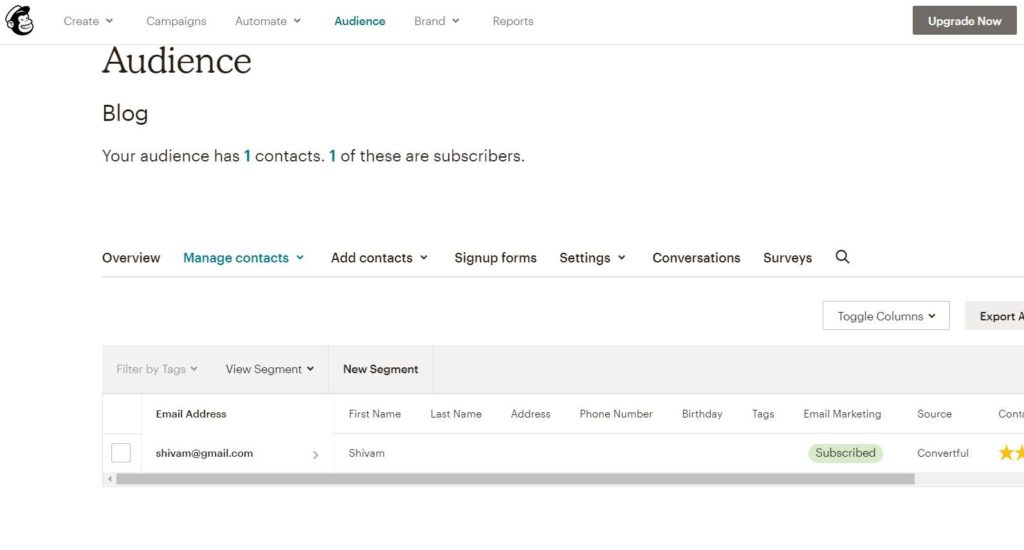 Now Let's start sending emails to our subscribers that we've got from our email subscription form.
To send an email to your subscribers, First, you need to create an email. To create an Email, First click Create Button that you will get at top-left corner. There you will get drop-down list, then you need to click on email option.

Now, here you will see pop-up window, where you need to enter campaign name and then click begin. It will take you to this new page, where you have to fill up all details related to email.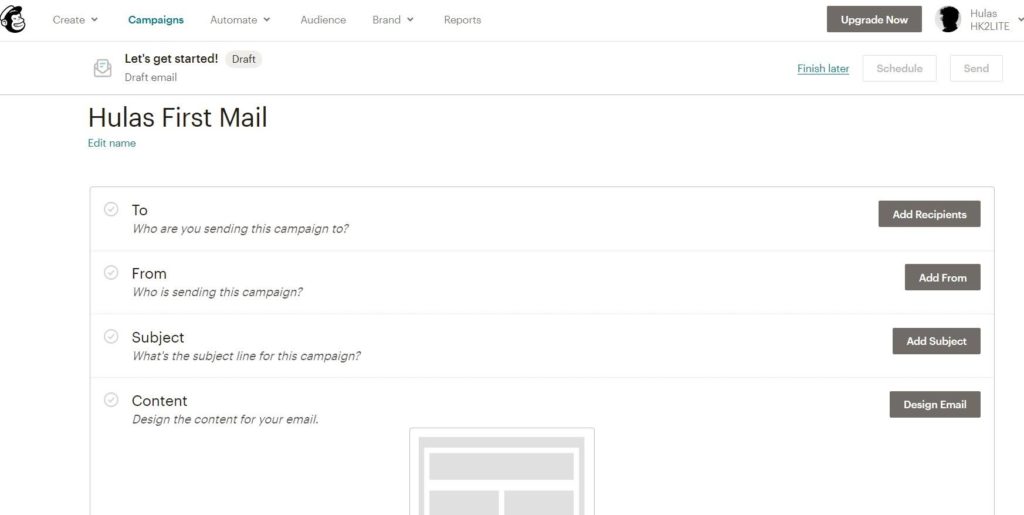 Here, You will see different option:
To(Add Recipients): Here, you need to select your subscribers group
From(Add From): Sender means your email address.
Subject(Add Subject): Add subject of your email.
Content(Design Email): Here, you need to design your email that you want to send to your subscribers.
Before Sending an Email, First you have to design it. To design you mail, Click on design email option and you will be redirected to new page. Here, you can select your template and edit as per you wish.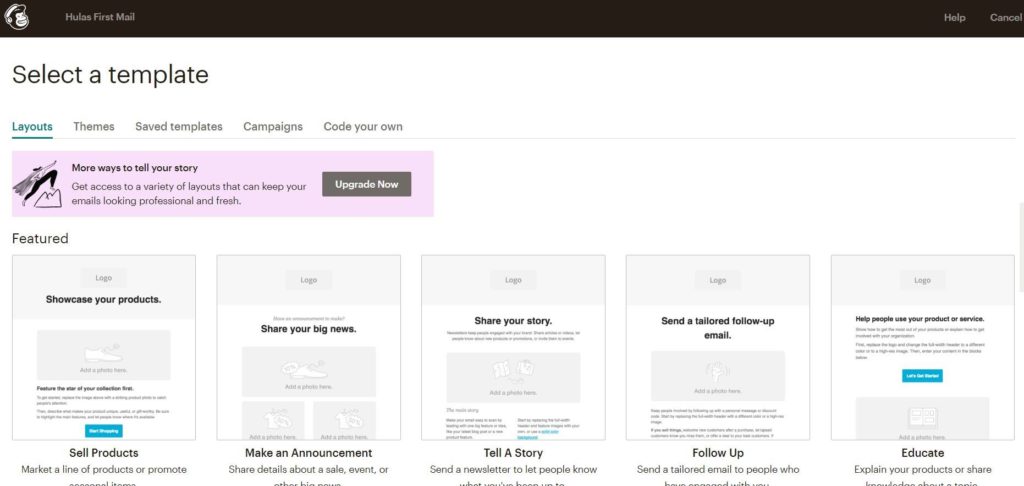 Select your template and customize it as you want.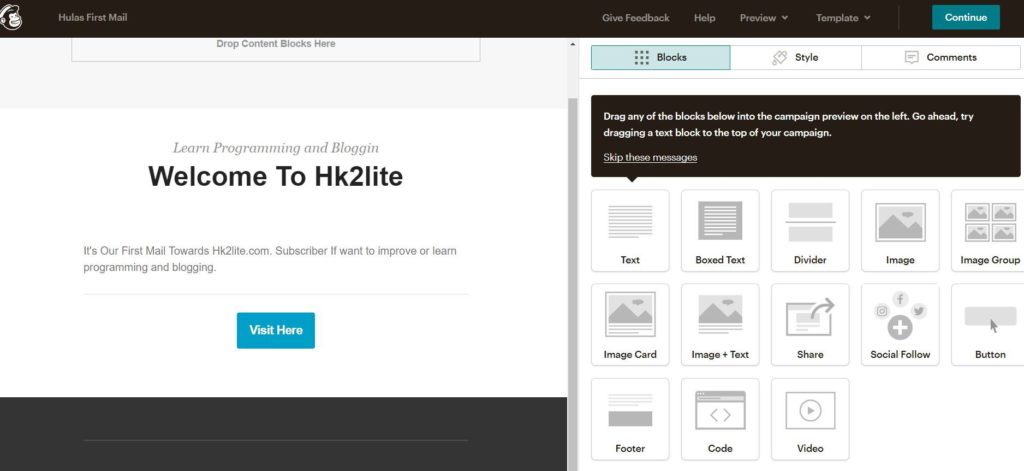 Now, Click on "continue" and then click on "Send" button.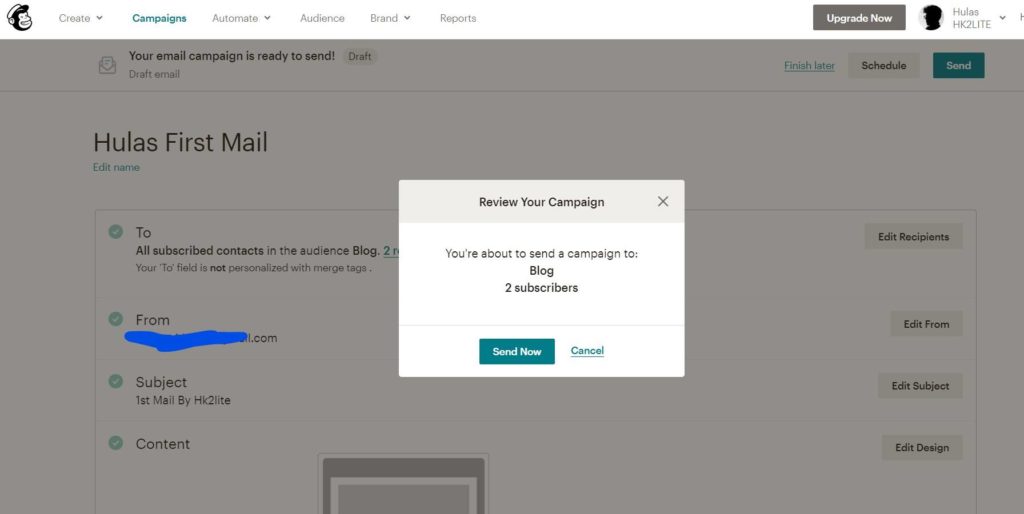 Click on "Send Now" button and your message will be sent successfully like this.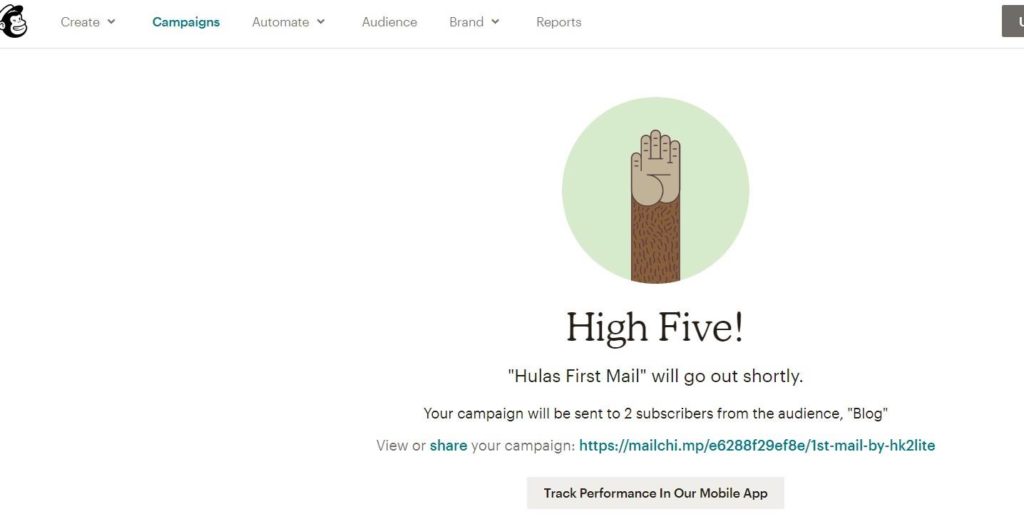 It's all done. Your message has been sent successfully to all your subscribers. Now when your subscriber will check their email, they will get an email something like this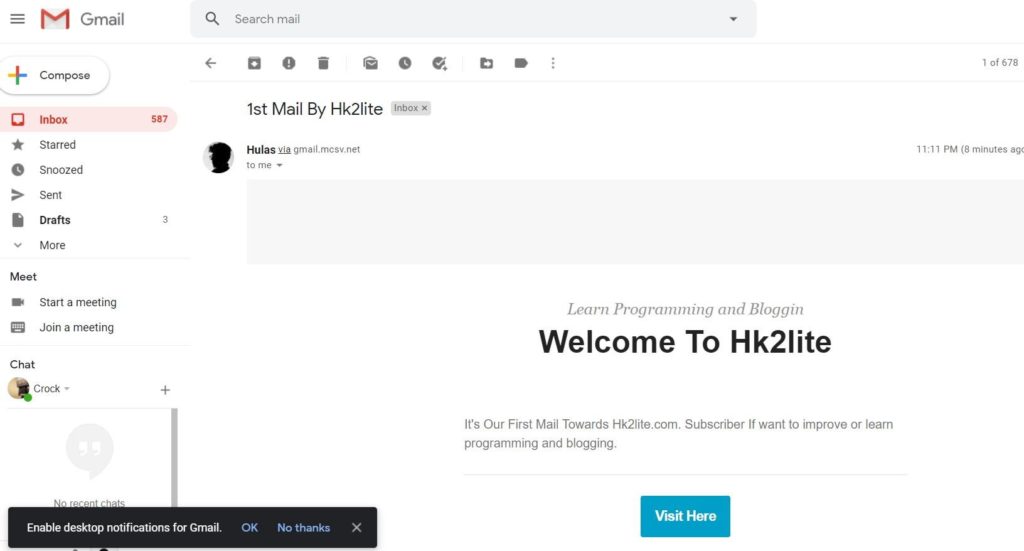 So that's it for today. I hope all of you will like this article about how to add email subscription to your wordpress blog
If you liked our article then please subscribe our blog to get such kind of blogging stuffs. Please don't forget to share this article with your friends.
Thank's To Read…