Hi, I thought most of you are beginners in this field. If You're reading this then I thought you have interested to build your career in Software Field Or either you might want to make your own something like apps, software etc. First Of all, You have to figured out that Which Programming Language You should pick and Learn first.
So, Which language you're going to choose will be totally depend on Whatever Your goal would have. For An Example: If you want to be An android developer then you should go with JAVA Or Kotlin. else If you want to a web-developer then you should go with HTML, CSS, Bootstrap And JavaScript.
But In this Article I'm going share with you guys that which programming language you should learn in 2020. This list totally based upon demand of programming Language in Market.
Programming Languages To Learn in 2020:
1. Python:
Python is one of the best and most recommendable Programming language from me as well as from market. If you're new in Programming Language and looking for What Programming Language should I First? Then My Answer will be the Python. According To Google Trends, Currently Python is most demanded language in the world. There are different kind of fields, In which you enter through the Python Language.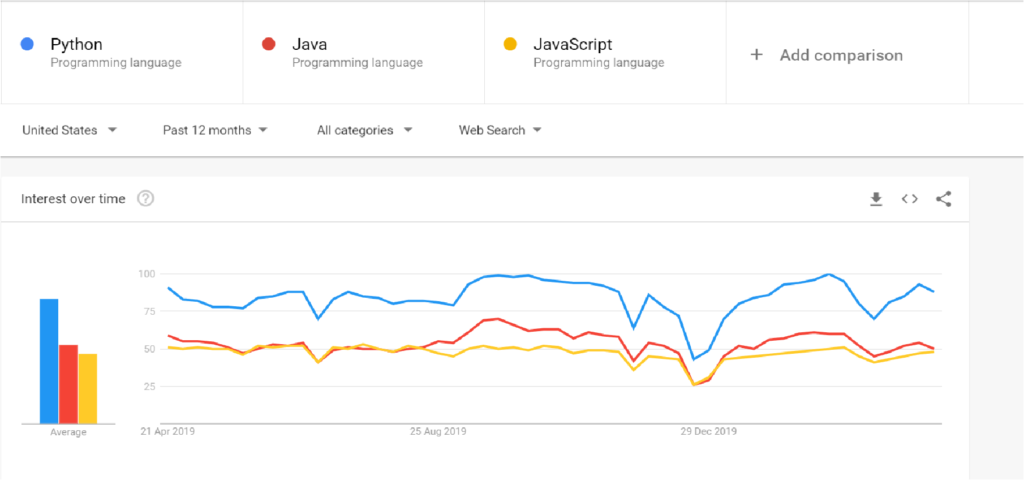 It's an Object Oriented, High Level and Interpreted language, Which is used in varieties of fields e.g. Web Development, AI, Machine Learning, Data Scientist, Software Development etc. I would like to share that Instagram and Dropbox has built over the Python.
There are different kind of things that you can do with python, because, Python has come with strong modules and packages. These package and modules takes your efficiency up to the next level. I would like to recommend it to all beginners because of It's easy syntax.
Python Developer(Avg Salary): Rs. 4,98,000- Rs. 8,00,000/ Annum
You May Also Like: Why You should Choose Python As First Programming Language?
2. JAVA
There is no doubt to say that Java will be still in exist in upcoming decades. Because It's one of the old, trusted and widely used language mostly in big enterprises. Java is used by lots of big companies and will be remain in demands for further decades. So, I think It will be the best option to learn this language. Because there is huge demand of java developers in the markets especially in Enterprises. Because Java is most preferable language to develop enterprise application.
Java is an Object Oriented, high level programming language, which has lots of Object oriented features like Classes, Packages, Interface etc. That would be help you out to make powerful software.
Java Developer(Avg. Salary): Rs. 400,000 – Rs 7,00,000 / Annum
3. JavaScript:
Here, It is stand out at 3rd no. in our List. JavaScript is a high-level, Dynamic programming language that is basically used to give a dynamic and functionality features into your website. Mostly, It's used along with HTML, CSS to give some functionality into your website. However, There are also different kinds of field, Where you can use JavaScript e.g. Web Development, Web Servers, Games Etc.
JavaScript Developer(Avg Salary): Rs. 6,80,000
4. Flutter
It's not a Programming Language. Basically, It's a Software Development Kit (SDK), Which comes in used to develop Cross platform Application For Android and IOS. In simple word, It allows developers to develop an Application by using Dart Programming Language. The applications that have developed under the Flutter Framework will run on Both OS e.g Android, IOS. You don't have to write code separately for each platforms. This SDK has been developed by Google and the demands of Flutter Developers have been increasing continuously.
Flutter Developer(Avg. Salary): Rs. 2,76,000 – 6,00,000
5. C#
C# is one of the most popular programming language developed by Microsoft that run on .Net Framework. This Language is basically used to develop highly secured web application, mobile apps and Games too. If you're Interested in any of these fields then this language would be the best for you.
These were the best Programming language that you should learn in 2020, not all at one time. But you should learn atleast one the above.
Learning the Programming language isn't the last thing that would land you to your dream Job. Besides from these, You must have to learn Frameworks along with these Programming languages e.g: Python with Django, Java with Spring, C# with .NET or Unity, JavaScript with Angular and so on.

Important Note
So, That's it for today, I hope you all would like this article about "Which Programming Language You should Learn in 2020". If yes, then please don't forget to share this article with your friends and relatives. You can also follow us on social media platform. If you want to get such kind of article then you can also subscribe our Blog.
Thank's To Read…